Golden Parmesan Chicken
(Appetizers, starters & first courses P. 148)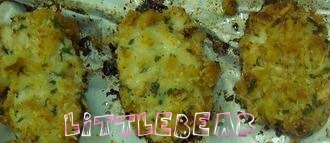 Served cold with the garlicky mayonnaise these morsels of chicken make a great appetizer, especially of served informally as finger food.
Serves 4
4 chicken breast fillets, skinned
75g cups fresh white breadcrumbs
40g Parmesan cheese, finely grated
30ml chopped fresh parsley
2 eggs, beaten
120ml good-quality mayonnaise
120ml fromage frais
1-2 garlic cloves, crushed
50g butter, melted
salt and ground black pepper
Method
1. Cut each fillet into four or five chunks. Mix together the breadcrumbs, Parmesan, parsley and seasoning in a shallow dish.
2. Dip the chicken pieces in the egg, then into the breadcrumb mixture. Place in a single layer on a baking sheet; chill for 30 mins.
3. Meanwhile, to make the garlic mayonnaise, mix together the mayonnaise, fromage frais and garlic, and season to taste with ground black pepper. Spoon the mayonnaise into a small serving bowl. Chill until required.
4. Preheat the oven to 180 degree C. Drizzle the melted butter over the chicken pieces and cook them for about 20 mins, until crisp and golden. Serve the chicken immediately accompanied by the garlic mayonnaise for dipping.