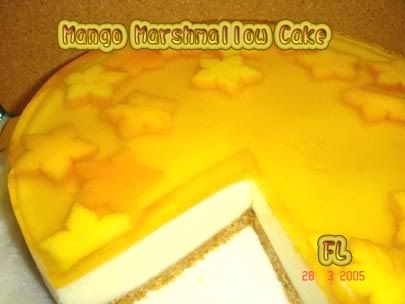 Mango Marshmallow Cake
This is my SG net friend, LeeLee\'s recipe but I did a little modifications.
Ingredients for Base:
200 gm digestive biscuits
80 gm melted butter
Method:
1. Crushed digestive biscuits and mix well with melted butter.
2. Press into a 8" cake pan.
3. Refrigerate for 30 minutes for later use.
Ingredients Marshmallow filling:
250g marshmallow
150ml milk
300ml whipping cream
2 tsp of gelatine powder
Method:
1. Put all the ingredients into a pot.
2. Doubleboil over small fire until gelatine is dissolved.
3. When it is a little cooled, pour it into cake base.
4. Chill it for 10 minutes, then add the shaped mango pieces. Put it back into the refrigerator to chill for another 15 minutes.
Ingredients Jello topping:
1 pkt of mango Jello
400 ml of water
2 tsp of gelatine powder
Method:
1. Boil all ingredients until dissolved.
2. Pour cooled mango jelly solution gently onto marshmallow layer by big tablespoon.
3. Chill in the refrigerator for 3 hours till jelly is set before serving.
Notes:
You can also arrange some sliced fresh mangoes on the biscuit base just before pouring in the marshmallow and also on top of the marshmallow layer. You can also add in diced mango pieces into marshmallow mixture. I shaped the mango pieces with a cookie cutter.
wendy618 :溶綿花糖時是否有技巧????gelatine powder 是否魚膠粉?? 啫喱粉一盒夠嗎 ?
wlteef  :將綿花糖ingredients放在一起隔水煮溶就得啦,無特別技巧。 啫喱粉一盒夠了,我用 Robertson Mango Jelly。